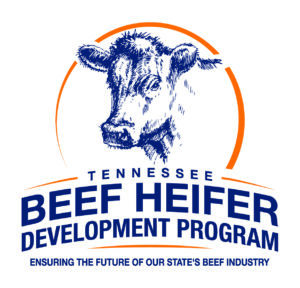 The Tennessee Beef Heifer Development Program is to incentivize the re-population of the beef herd through custom heifer development. It will be accomplished by the implementation of management practices with access to more productive replacement females allowing for more rapid expansion of Tennessee's beef herd. This will improve the longevity of these females, decreasing turnover and providing for exponential improvement in genetics with associated revenue generation.
The program is a partnership of The University of Tennessee Institute of Agriculture and the Tennessee Department of Agriculture designed to:
Increase the opportunity for custom replacement heifer development,
Demonstrate proper replacement heifer development to beef cattle producers in Tennessee,
Increase the implementation of heifer development practices that will result in optimum reproductive efficiency as mature cows,
Demonstrate management techniques necessary for replacement heifers to reach target weights and breed successfully,
Demonstrate methods of evaluating heifers for disposition, performance, and reproductive traits.
---
Benefits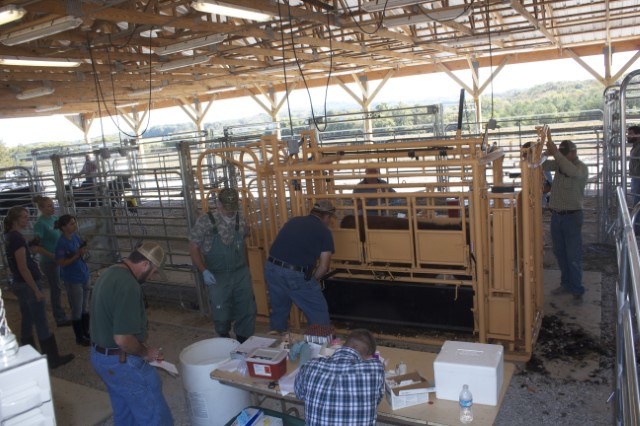 Reproductive Management
Heifers will be evaluated for pelvic area and reproductive tract score prior to breeding. Estrus will be synchronized and heifers exposed to a single timed artificial insemination (AI). Estrus detection and AI will be conducted for the remainder of a 45-day breeding season. Selection of AI sires will be performed by the program's administrator working with the advisory committee. Sires requested beyond committee selections must qualify under Tennessee Agriculture Enhancement program sire genetic requirements. Calving ease will be a high priority for sire selection. Pregnancy will be diagnosed approximately 30 days after the end of the breeding season via ultrasonography.
Nutritional Management
Heifers will be maintained on standing forage, hay or haylage and supplement designed for optimum growth. A grazing plan that includes cool and warm-season grasses will compose a majority of the nutritional program. Heifers will be fed to weigh approximately 65% of their projected mature weight at the beginning of the breeding season.
---
Important Information & Dates
Important information for the current Heifer Class Groups offered in the program:

Fall Born Heifers: Calved September – November

Spring Born Heifers: Calved January – March

Rules and Regulations
Fall 2022 Heifer Class
| | |
| --- | --- |
| July 11-12, 2022 | Check in, VAX, Weight, Hip Height, Preg check |
| July 25, 2022 | ReVAX |
| August 22, 2022 | Weigh Day – Preg Check |
| September 19, 2022 | Weigh Day |
| October 17, 2022 | Weigh Day |
| November 4, 2022 | Weigh Day, Carcass Ultrasound, Pelvic Area Measurement, Repro Tract Score, Hip Heights, Docility – Insert CiDR |
| November 18, 2022 | Remove CiDR |
| December 4, 2022 | PGF 4PM |
| December 5-6, 2022 | AI based on heat |
| December 7, 2022 | FTAI 8:00-12:00PM |
| December 16, 2022 | Cleanup Bull In |
| February 20, 2023 | Weigh Day, Preg Check, (End of Breeding Season) |
| April 24, 2023 | Final Pregnancy Check, Hip Height, Docility, Freeze Brand |
| May 8-9, 2023 | Fall Heifer Pickup |
Spring 2022 Heifer Class
| | |
| --- | --- |
| October 10-11, 2022 | Check in, VAX, Weight, Hip Height, Preg check |
| October 24, 2022 | ReVAX |
| November 21, 2022 | Weigh Day – Preg Check |
| December 19, 2022 | Weigh Day |
| January 17, 2023 | Weigh Day |
| February 13, 2023 | Weigh Day |
| March 3, 2023 | Weigh Day, Carcass Ultrasound, Pelvic Area Measurement, Repro Tract Score, Hip Heights – Insert CiDR |
| March 17, 2023 | Remove CiDR |
| April 2, 2023 | PGF 4PM |
| April 3-4, 2023 | AI based on heat |
| April 5, 2023 | FTAI 8:00-12:00PM |
| April 14, 2023 | Cleanup Bull In |
| June 19, 2023 | Weigh Day, Preg Check, (End of Breeding Season) |
| July 24, 2023 | Final Pregnancy Check, Hip Height, Docility, Freeze Brand |
| August 7-8, 2023 | Spring Heifer Pickup |
---
Program Contacts
For more information please contact Kevin Thompson, Hugh Moorehead, or Charlie Strogner

Middle Tennessee AgResearch and Education Center at Lewisburg
1070 New lake Road
Lewisburg, TN 37091
P: 931-270-2240
---
Our Partners